A little bit about myself -- My name is Trevor Menagh. I used to work for a small company called iambic, Inc. creating applications for the Palm OS, then I worked for a company called RedOctane doing customer support and helping improve their customer service process. Then I worked and lived in Japan teaching English in a small town through the JET Programme. Now I am a Computer Consultant and Database Programmer at a small startup in Philadelphia called Tamman Technologies, Inc. run by a good friend of mine that taught in the town next to mine in Japan.
I graduated from Washington State University in May 2001 majoring in Computer Science specializing in Artificial Intelligence with a minor in Japanese Area Studies. From mid-August 1999 to mid-May 2000 I attended Kansai Gaidai University as a foreign exchange student through WSU International Programs.
My hobby -- I enjoy watching and collecting Japanese animation, or Anime to its fans. In Fall 1996 I founded the WSU Anime Club to bring anime to the WSU campus, and I am proud to say that it is still going strong. I then became a staff member at No-Name Anime, the local non-university affiliated anime club in San Jose. I was also on staff at the local anime convention in the Silicon Valley, FanimeCon for the 2002 and 2003 seasons. I was the Panels Department Manager and Guest Relations Assistant Director both years.
My handle -- Jumex is actually a Mexican fruit drink. Their website can be found at www.jumex.com.mx. I started collecting cans of the infamous juice product back in 1996 with my roommate-at-the-time Marty as a joke. We collected all the cans that they had at the local store (Waremart). I stopped collecting the cans a long time ago, but the name has stuck with me throughout the years.
One-Point English Conversation Class Videos -- Every month I lived in the small mountain town of Iinan in Shimane, Japan I had to host an English Conversation TV Show that was shown in the county I live in.
The Lalish-Menagh Wedding Site -- On May 25, 2002 I got married to Signe Rose Lalish. At the bottom of this page there is a painting that remined me of my wife, Signe. For the event we made a webpage. please check it out.
My LiveJournal blog is active, I write a dialy blog as well as the Trev Reports.
You can also check out my .plan file at SDF.
Driving in Japan -- The Japanese driving test can be tough for foreigners in Japan, so I have written a page with tips on passing the Japanese test.
Poetry -- These are a few poems I have written about nothing special.
---
jumex's jobs
My Résumé can also be found here.
Being in Computer Science through the years I have had the opportunity to hold many computer related jobs throughout the school years and in the summers as an intern. Though, nowadays, I am doing something completely different. Below are links to the places I have worked and some useful information.
The JET Program -- I was an assistant English teacher in the small town of Akagi, Shimane Pref., Japan. I was employed through the Japan Exchange and Teaching Programme, which sends thousands of native English speakers to Japan each year to teach English to kids and adults. I taught at 1 middle school, 4 elementary schools, and 3 nursery schools. The work was extremely rewarding and I loved the job. I stayed there for 4 years.

-- RedOctane is an online console video game rental company. We rent games online as well as sell used games. The thing we are most famous for though is our award-winning Dance Dance Revolution accessories for the home player. We are proud to make the top of the line home pads for the Playstation and Playstation2. I worked here until August 2003.

-- iambic, Inc. This is the company that I worked for until July 2002. We create applications for the Palm OS. Founded in 1994, iambic, Inc. has always been dedicated to bringing you the best applications software on the market for handheld devices. I worked with CodeWarrior and Constructor of Palm OS to create applications for the Palm.

-- Seattle Lab, Inc. This is the company that I interned for in the summer of 1999 and the summer of 2000. Seattle Lab is a leader in web-based software for Windows 95/NT. Creating such powerful products as RemoteNT, SLMail, and Emurl, to name a few. During my stay at Seattle Lab (which was named after a Black Labrador named Jackie, who was succeeded by Rita who often runs around the office begging to be played with, not a laboratory as commonly thought) I worked with ATL/COM in WindowsNT to create and fix many parts of SLMail and the Antares Message Server. I also got the opportunity to learn ISAPI for developing remote web server controls.

-- Palm Computing, Inc. This company really needs no introduction to the computer savvy person. The makers of the Palm series of PDAs, Palm is a subsidiary of the 3Com corporation. 3Com obtained Palm during the Summer 1997 merger of US Robotics, the former owner of the company. I interned there for the summer of 1997 when the merger occurred and in the summer of 1998 which saw the loss of the Palm's President (Donna Dubinsky) and CTO (Jeff Hawkins) to form Handspring, Inc. While at Palm I worked on the PalmOS 3.0 internals, the Japanese version of the PalmV, and font conversion tools among other things.

-- WSU SCS Residential Networking, founded in the summer of 1997 to be a part of WSU Student Computing Services, ResNet (as it is commonly called) was created to help students with computers get connected to the university's network which is held together by 4 inverse-multiplexed- T-1 connections throughout the campus. I was a Residential Computer Coordinator for Stephenson North (in 1997-1998) and then Streit-Perham (1998-1999) Resident Halls. I lived in the hall and installed and and helped maintain resident's computers on the school network.
---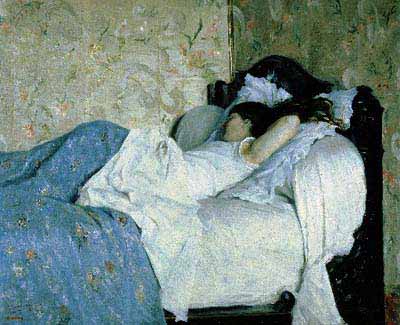 "In Bed" by Zandomeneghi (1878)